HabitMaster, a habit-building app that I develop, now has a new look and feel. The new design aims to make the app more pleasant to use.
Here is how it would look like on your device (if you read this through an email, please make sure that you click "Display Images" link in your email reader first):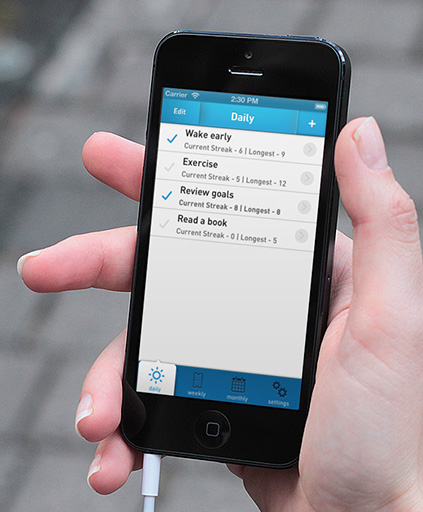 There are more screenshots on the App Store page that I link to below. HabitMaster runs on both iPhone and iPad, and you will get both versions with a single purchase.
Click here to check out HabitMaster.
What Is HabitMaster?
HabitMaster is an iOS app that helps you build positive habits in your life. Be it a daily, weekly, or monthly habit, HabitMaster helps you track your progress and maintain your motivation.
For each habit, you can see your current and longest streak. Your goal is to make your current streak as long as possible. Aim not to break the streak and you will automatically keep the habit.
Features:
Add the daily, weekly, and monthly habits that you want to build.
Track how you maintain the habits.
You can give a check mark to a habit whenever you do it. If you forgot, you can still give the check mark anytime you want.
For daily habits, choose the days which are okay to skip.
Your streak will continue through these days. So if you choose not to do the habit on the weekend, for example, you won't break the streak.
See how good you are in maintaining the habits.
For each habit, you can see the current and longest streak. You can also see the details of the streak. This way you can easily see when you succeeded and when you didn't.
Set alerts to remind you of doing a habit.
The alerts will appear automatically according to the type of the habit (daily, weekly, or monthly). For daily habits, you can also choose whether to show the alert on the days that are okay to skip.
Sync data between your devices.
Create a free Dropbox account and sync data between your devices. For instance, you can enter your progress on your iPhone and then sync the data with your iPad.
Set a passcode to protect your data.
I'm happy to say that the app has been well received by the users. I hope you will find it useful as well.