I recently renewed my interest in the world of chess. It was my hobby years ago, but over time I shifted my attention to other interests. The World Chess Championship 2013 brought my attention back.
The match is especially interesting to me because the challenger (who then became the world champion) is a phenomenon. Magnus Carlsen is only 22 years old but has already become the world's number 1 (almost continuously) since 2010. Not only that, he has also broken the rating record of Garry Kasparov.
I might write another article about Carlsen and how he does what he does, but for now I want to look at another aspect of the match that I find interesting.
While following a game in the Championship, there is a list of all the moves made by both players. What intrigues me is the fact that the moves are colored based on how optimal they are (according to computer analysis). Here is a screenshot: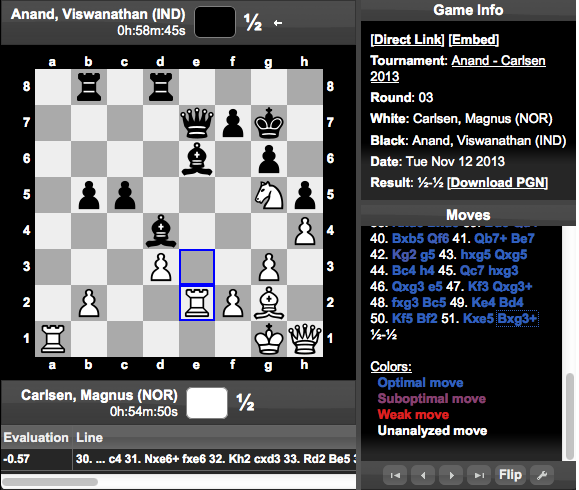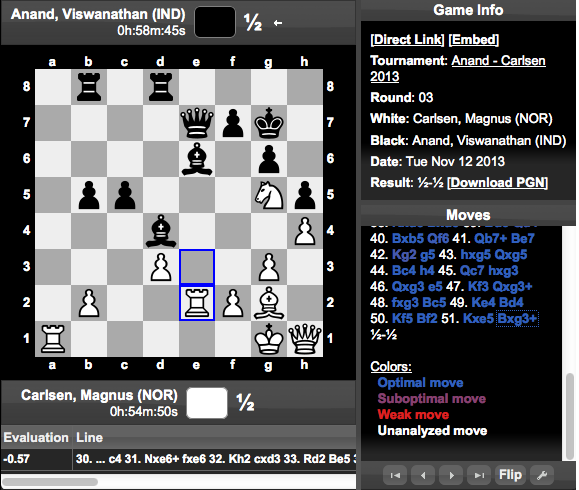 As you can see (at the bottom right corner), there are three possible categories for a move: optimal, suboptimal, and weak. Optimal moves (colored blue) are those that are among the best possible. Suboptimal moves (colored purple) are mediocre. And weak moves (colored red) are bad moves.
The World Championship hosts chess players of the highest level, therefore, most of the moves are blue. Only occasionally are there purple moves. At this level, making even a few suboptimal moves could mean defeat. A player should consistently make optimal moves to get the best results.
In my opinion, this is a good metaphor of how we should live our lives. Just like a chess player must decide what move to make in a game, you must decide what action to take in your life. And, just like in a chess game, your decision could be optimal, suboptimal, or weak. Here is an example of each in a work context:
Optimal: you do your most important task without procrastinating.
Suboptimal: you do your most important task, but only after procrastinating.
Weak: you neglect your responsibility.
If you want to optimize your life, then you should make optimal "moves" at every point. The more optimal "moves" you make, the more optimized your life becomes. Your goal is to eliminate weak "moves" and minimize suboptimal ones.
Here are two ways to do that:
Whenever you need to make a decision, ask yourself: What is the optimal decision in this case?
Whenever you are about to do something, ask yourself: Is this optimal, suboptimal, or weak? Or, using the colors above: Is this blue, purple, or red?
Be honest with your answers. Then, once you know what is right to do, take a deep breath and do it!
The difficult part, of course, is doing that all the time. Making the occasional "blue" move isn't hard, but doing that consistently is a different story.
In the World Championship, most of the moves are blue. But I don't believe that's the case with the previous stages of the players' careers. They must have made many purple and even red moves at some point. Over time though, through practice and hard work, they have learned to eliminate most of them. They have optimized their play to the point where almost all of their moves are blue.
Similarly, you can improve your life to the point where most of your "moves" are blue. Yes, it takes hard work, and yes, it might take a long time. But it's definitely possible.
The question is: Are you willing to pay the price?
If your answer is yes, then one day you will live a highly-optimized life.
Photo by Bigstock