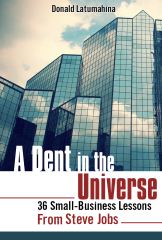 After months of effort, A Dent in the Universe: 36 Small-Business Lessons from Steve Jobs is now available. Here is a sample of the book (including Table of Contents).
As I touched on in the last post, the goal of the book is to help you best run your own business. If you are still thinking about starting a business, it can help you start with the right mindset and attitude. If you already have a business, it can help you take it to the next level.
The PDF version of the book is 92 pages long. When you buy the book, you will get not just the PDF version (which is printable) but also the .mobi (for reading on the Kindle) and the .epub (for reading on the iPad) versions. Further instructions on how to use them are available on this page and on the readme.rtf file within the package.
The normal price of the book is $6.99, but for the first week (until next Monday) I set it at a special launch price of $4.99.
Writing this book has been a tremendous learning experience for me. I hope reading it will give you the same benefit. You can buy the book through the link below.