Leo Babauta of Zen Habits just released a new e-book entitled The Essential Motivation Handbook. It's an e-book that helps you find the motivation you need to reach your goals.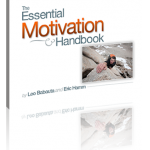 As you know, motivation is essential for success. Why? Because there is no such thing as easy success. You must go through difficult times on your way to success. Without motivation, you may get discouraged and stop without ever reaching your destination.
This 112-page e-book helps you find the motivation you need by giving you practical tips in 25 short sections. Here are some of them:

The Only Two Secrets to Motivating Yourself You'll Ever Need
A Guide to Beating the Fears That Are Holding You Back
Top 20 Motivation Hacks
Progress, Progress, Progress! 5 Tips To Keep You Moving Forward
25 Killer Actions to Boost Your Self-Confidence
16 Ways to Motivate Yourself When You're in a Slump
30 Incredible Places to Turn When You Need Inspiration
How to Doggedly Pursue Your Dreams in the Face of Naysayers
The Yin And Yang Of Persistence
Leo's previous e-books have been very successful. Zen To Done, for instance, is the best-selling productivity e-book to date with 10,000 copies sold. I expect that many people will also find this motivation e-book useful. You can find more information here.