I got an experience last week that taught me some lessons on work productivity.
My laptop's LCD screen was broken. When I turned on the computer I got the screen on for only about one minute before it went blank. Once it got blank there is nothing I could do to turn it back on. So I switched to my old computer which I bought in 2002. Fortunately, I could transfer my data easily since I always backup my data to an external disk.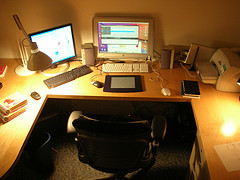 This didn't last long though. My old computer is so slow that it takes a lot of time to get even simple tasks done. I often needed to wait for seconds when I clicked on a menu item before it ran. On other occasions, the computer froze in the middle of a task and I had to wait for minutes before it responded.
After a few days I couldn't bear it anymore. I decided to switch back to my newer computer by using an external monitor. What a relieve! It felt so fast and responsive. No more waiting and no more frustration. I did feel the difference in my productivity.
From this experience I learned some lessons on work productivity:
1. Appreciate what you have
Sometimes we need to lose something before we appreciate it. In my case, I didn't appreciate having a good, working LCD screen until I lost it. Other than the screen, there are many things that still go right in my life. I have a good Internet connection, a working computer, and all of my data. I also have loving family and friends, both of my hands, and more. Just imagine if I lost any of them! So appreciate what you have. This appreciation will help you maintain them (see the next point).
2. Maintain your system
To get things work seamlessly around you, there are a lot of components that must work well together. If even one of them failed, it will disturb your entire experience. So pay attention to maintaining your productivity system. Take the preventive measures necessary to minimize the possibility that something goes wrong.
3. Build your capability to recover
Unfortunately, no matter how hard you try there is always possibility that something goes wrong. So you need to prepare for fast recovery when such things happen. That's the reason why I always backup my data to an external disk. Thanks to the backup, when my computer got problem I could quickly move the data to another computer.
4. The best tools are those which existence you no longer realize
Whenever I use my old computer, I'm constantly aware of the existence of the tool. Why? Because the tool often gets in my way of self expression. I want to do something but I must wait for the computer to respond. I want to get something out of my head but the computer freezes.
On the other hand, when I use my newer computer I barely aware of its existence. My creative self expression occupies my mind and I barely have any part of my mind left to think about the tool. I can express myself fully.
This principle applies to the productivity tools you use. The most important thing is not to have the newest or most sophisticated tools. The most important thing is to have the tools that allow you to express yourself fully. That's why it's better to stick with the tools you are already familiar with unless there is radical innovation that can significantly boosts your work productivity. Choose tools that won't get in your way of creative self expression.
5. Identify and eliminate your productivity bottlenecks
The bottleneck in my case was the performance of my computer. It significantly reduces my work productivity. I was often frustrated when I realized in the middle of the day that I got very few things done compared with what I normally achieve.
But the bottlenecks in work productivity are often not obvious. You might not realize that the bottlenecks exist. Such bottleneck for me is random browsing. When I'm working on a task, sometimes I want to check an unrelated web site. Before long, I've been browsing randomly for 30 minutes or more.
My question to you is: what are your bottlenecks in productivity? Identify and eliminate as many of them as possible.
Photo by moriza