Do you want to grow well? Life management is something you should not miss then. Good life management ensures that every aspect of your life grows as it should. Without good life management, it's easy to leave out some aspects of your personal growth while overemphasizing the others.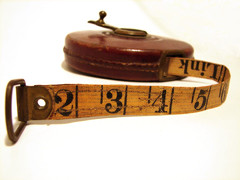 Take physical exercise for example. Once you stop exercising, you might be surprised to see, six months later, how much time have passed since your last exercise. Or take reading book. It's easy to let months pass by without finishing a single book.
How can we overcome this problem? How can we better manage our life? Peter Drucker gave us a great answer:
What gets measured gets managed.
While the statement is originally intended for companies, I believe it's equally true for individuals. If you want to get something managed in your life, you should measure it.
Why Measuring Works
There are several reasons why what gets measured gets managed:
1. When you measure something, you bring your attention to it
This is the first benefit you get by measuring something. How can you manage something if you don't even pay attention to it? By measuring something you direct your attention there.
2. When you measure something, you know where you are
Sometimes we don't realize the severity of a problem we have until we see the facts. That's why measuring something is important. It helps you see the truth of where you actually are. In personal finance, for instance, it's easy to think that you already live wisely. Only after you see your income and expenses by numbers might you realize that you have problem. This realization in turn gives you the motivation to do something about it.
3. When you measure something, you see your progress
Not only can measuring help you know where you are, it also helps you see your progress. You will see whether or not you have done the right thing and – if you do – whether or not you have done enough. Seeing how far you've gone also motivates you to keep moving forward.
How to Measure Your Life
We have seen the reasons why measuring something gets it managed. Now how should we measure our life? Here are some guidelines that I use:
1. Make it balanced
If you want to have a balanced life, you should balance the aspects of life you manage. My favorite way of doing this is through the four facets of prosperity: physical, spiritual, social, and financial. Measuring each of them ensures that your life gets managed in all four areas.
Of course, it may be too difficult to start on all four facets at once. In that case, you can start with just one facet and then add the others one by one as you become more comfortable with measuring your life.
2. Keep it simple
Unlike companies who can afford to do complicated measurement, individuals are unlikely to stick with measurement if it's complicated. That's why you need to keep it as simple as possible. The simpler it is, the more likely you will stick with it in the long term.
3. Carefully choose what to measure
You need to choose the right things to measure or you risk managing the wrong things. The four facets of prosperity gives you the areas of life to measure but you need to be more specific within each. For example, what kind of metrics do you think best represent your physical prosperity? Finding the right metrics is not easy and it requires experiments. Just start with something and keep refining it along the way.
4. Carefully decide how to measure
If you have chosen what to measure, you should then carefully decide how to measure it. As I wrote above, the simpler it is, the more likely you will stick with it. Here are three ways to measure something in your life:
a. Habit checklist
Make a list of things you want to do regularly – either daily, weekly, or other intervals – and put a check when you've done it. Of course, you need to be specific with the kind of activity you want to do. For example, you can make a habit checklist for rising at 6 am. Whenever you achieve it, you can put a tick on your checklist.
b. Time-constrained goals
Make a list of goals you want to achieve in certain period of time and write whether or not you achieve it. Also write down how much you actually achieve so you can compare your progress with your goal. For example, if your goal is reading four books in a month, you can write down how many books you have actually read and compare it with your goal.
c. Activity record
Record your activities in certain period of time to see where you are. For example, you may record all your income and expenses so that you can see your current financial position. You can then move further by creating a budget and thereby creating time-constrained goals.
5. Keep experimenting
Measuring your life is a process that needs to be refined over time. So keep experimenting. Assess the effectiveness of your measurement and improve those that can be improved. Keep finding the right things to measure and the right way to measure them. The important thing is to start measuring aspects of your life. That's how you have good life management.
***
What do you think? Do you have thoughts or ideas about managing life?
Photo by aussiegall