Have you been thinking about what books to read in 2009? Being a book lover, I have. I want 2009 to be a good year of reading and I want to fill it with the best books possible.
The problem is finding the best books to read. While there are many ways to find them, one good way is by looking at others' recommendations. Books that have been recommended again and again are likely to be good.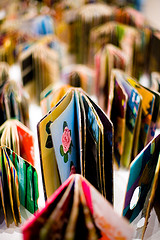 Of course, the recommendations themselves should be of high quality. That's why I made a clear criterion for the recommendations I referred to: they must be popular enough to be listed in Delicious popular. Then what I did is going through all book recommendations that made Delicious popular in 2008 and count the number of recommendations each book in the lists get. In total, there are 14 lists I referred to that altogether recommend more than 400 books. Next, I picked only the books that have been mentioned at least twice and that reduces the number of books to 47.
Looking at the list below, you will see that it contains books from many different genres. There are fictions and non-fictions. There are science, history, and self improvement books. That's the point of the list. You should read books from many different fields to enrich your life. You should diversify your readings. That way you can cross-pollinate ideas from one field to the other and come up with a lot of fresh ideas.
With that in mind, here are the 47 most recommended books in 2008 (sorted by the number of recommendations and then by alphabet):
I hope this list can help you decide what to read in 2009 and improve your reading experience. Happy reading!
Sources:
Photo by kennymatic