In the post How to Save Time in the Long Term, I wrote that we need to minimize our potential regret to save a lot of time in the future. The reason is that we lose more time not by how we do things but by what we don't do. So I made a list of things that might give me the biggest regrets in the future if I don't do them. This is my personal list but many of the items are applicable to everyone.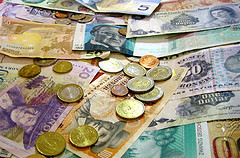 One of the items in my list is income diversification. Not diversifying my income is something that could make me regret in the future. The risk is clear: I would get financial problems if my primary source of income disappear. There is definitely no fun in seeing your income drops to zero or near zero especially when you have a family to feed. I'm afraid that this is a potential problem for many people, in particular those who work as employees. If for some reasons they lose their jobs, there is a possibility that they will fall into financial problems.
That's why you need to diversify your income. Diversifying your income gives you a safety net to prevent financial problems. Here are some tips on income diversification:
1. Start early
Building new income streams to the level where they are substantial enough for a living may take long time. So it's important that you start early. Don't wait until the financial problems come. While you can get back many things you lose, you won't get back lost time. Use your time wisely.
2. Explore opportunities through side projects
Exploring new opportunities is a must if you want to diversify your income. Creating side projects is perhaps the best way to do that. It allows you to explore opportunities without sacrificing your primary source of income. A promising side project can then become one of your main projects.
This is what happens to me with this blog. This blog started as a side project for me but now it grows to the point where it becomes one of my main projects.
3. Be persistent
As I stated above, it takes time to build new income streams until they become substantial enough. So not only should you start early, but you should also be persistent. In any endeavor you take you will always go through failure period before you succeed. Don't lose heart and don't give up when you are going through such period. Understand that it's part of your journey to success. Keep doing what it takes even if it doesn't give you the results you want at the moment.
4. Know when to stop
While you need to be persistent, you should also know when to stop and explore other opportunities. There is a difference between being persistent and being stubborn. When something is clearly hopeless, don't keep pursuing it. Save your resources and switch to other opportunities.
5. Failure is your friend
While you are exploring opportunities, you will find a lot of opportunities that are unsuccessful. That's normal and you shouldn't be discouraged when you fail. Just don't make the mistake of giving up too early. Perhaps you are just walking through the failure period of a good opportunity.
6. Strengthen the winners
While exploring opportunities, you will find some that are winners. These are where you should put most of your resources. Invest more money. Spend more time. Don't make the mistake of giving all the opportunities the same amount of resources. Give more resources to the winners so that they can fully develop. This is the reason why you should experiment and explore new opportunities in the first place: to find winners that you can strengthen further.
***
Diversifying your income is important to prevent financial problems, but you should not just pursue money for money's sake. A better way is to make money with a purpose.
Photo by bradipo