A few days ago I finished reading The Dip: A Little Book That Teaches You When to Quit (and When to Stick) by Seth Godin. It's a short book (96 pages) so it didn't take much time to read. But, despite its shortness, I learn some lessons from it that I want to share with you.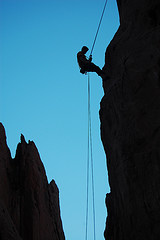 The Dip is Seth Godin's term for the time in your journey to success where things seem to be difficult, where what you get is not comparable to your effort, and where it's easier to stop. It's the time where the pain seems to be bigger than the gain. The ability to go through the Dip makes the difference between those who become the best in the world and those who are just mediocre.
Here are some keys to success from the book:
1. Aim to be the best in the world
This is something that many people never think of. Even if they think about it, many of them eventually forget it when the journey get tough. The fact is most people are satisfied with being good enough.
But there is a good reason why you should be the best in the world: the market rewards the winners and reward them handsomely. The difference between number 1 and number 2 in a market is often huge.
It reminds me of a saying:
Good is the worst enemy of best.
Why is good the worst enemy of best? Because many people stop trying to get the best when they already get the good. Since the difference between best and good is huge, you can see how much they have lost.
2. Expect a Dip ahead
Many people have big dreams but they aren't prepared for the difficulties and challenges ahead. When they eventually meet the challenges, many of them get discouraged and quit.
So you need to prepare yourself from the beginning. Don't expect the journey to be easy. Expect difficult times to come. If you are prepared with this possibility then the chance is much higher that you will be able to go through it successfully.
3. Choose your race carefully
You can't be the best everywhere. You can only be the best in a field where you are uniquely equipped to conquer it. So choose your race carefully. Choose only the race in which you are confident that you can go past the Dip. It's better to stop before you start because it saves you a lot of time.
4. Stop unproductive effort
If you want to be the best in the world, you can't do too many things at once. That will only consume your resources and slow you down. The fact is it's difficult to go through the Dip. If it's not difficult, many people would have passed it. That's why you need to put as many resources as you can to help you go through the Dip. Stop unproductive effort so that you can use the resources for the Dip. Sometimes it means that you need to quit unproductive career. Sometimes it means that you need to abandon a project you've worked on for years. It's not easy. It requires sacrifice. But it will pay off.
***
Besides the four keys to success I just shared, there is one more thing I learned from The Dip:
Be concise
Seth Godin wrote at the end of the book that he learned from his readers the need to be concise. I think that's a good idea. Why would you need 1500 words if you can get an idea across in only 400 words? The attention span of most people is short these days so being concise helps you get your message through and reach more people.
Photo by cpt.spock